Church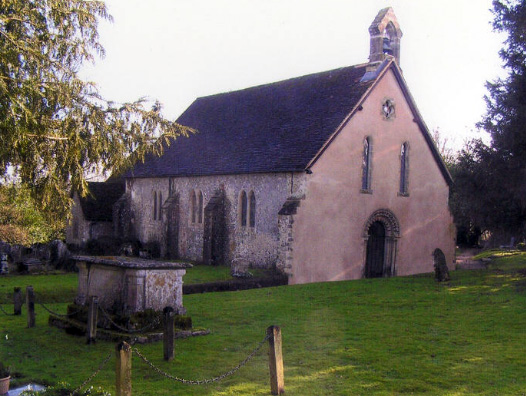 Set in a steeply-banked churchyard beside a small wood, St. Mary The Virgin serves a scattered parish of isolated hamlets close to the Wiltshire border. The Saxons brought Christianity to the valley in the 6th century, although no evidence of a pre-Norman foundation has been discovered.
The earliest part of the church – now the chancel – is Norman, and the first section of the current nave was added in the 12th Century, with a further extension sometime after 1420. There is evidence of further repairs probably in the 17th or 18th century.
A watercolour painting of the church from the 1840's provides some evidence that the church burnt down subsequent to this date, though no accounts have been discovered. Though the floor of the nave displays the usual 17th and 18th century sepulchral slabs, the interior is largely Victorian, as are the plate glass windows which bear further testimony to the conflagration which is said to have consumed the church in the middle of the 19th century.
The church has a very fine western doorway from ca. 1220, a very good example of late Norman, almost Early English work in Hampshire, and a fine feature of a rather humble building with its excellent detail in Binstead stone from the Isle of Wight.
Information provided with kind permission of Jill Palmer.
Church of England Services
St Peter's, Hurstbourne Tarrant & St Mary's, Vernham Dean are now OPEN for private prayer and contemplation.
Don't forget …
that the Upton School House Trust makes grants to individuals and organizations to promote the education of young people under the age of 25 who live in (or who have a parent or parents living in) the parishes of Hurstbourne Tarrant and Vernham Dean & Linkenholt. It also helps to further the religious and charitable work of the Church of England in those parishes.
The Trustees will be meeting very soon to consider applications, so if you believe that you may be eligible for a grant from the Trust please forward full details in writing by midday on Saturday 9 April to one of the churchwardens.
Jane Jones Louisa Russell Clare Olding David Holmes
736323 736477 736207 737606