Church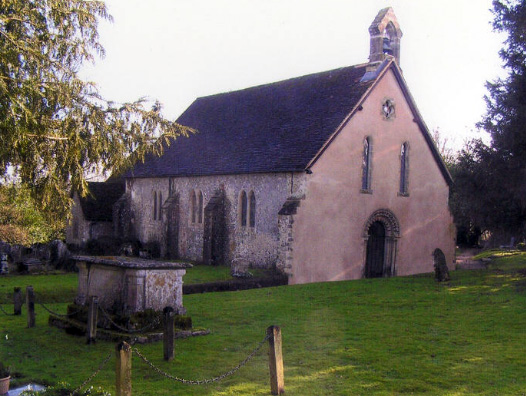 Set in a steeply-banked churchyard beside a small wood, St. Mary The Virgin serves a scattered parish of isolated hamlets close to the Wiltshire border. The Saxons brought Christianity to the valley in the 6th century, although no evidence of a pre-Norman foundation has been discovered.
The earliest part of the church – now the chancel – is Norman, and the first section of the current nave was added in the 12th Century, with a further extension sometime after 1420. There is evidence of further repairs probably in the 17th or 18th century.
A watercolour painting of the church from the 1840's provides some evidence that the church burnt down subsequent to this date, though no accounts have been discovered. Though the floor of the nave displays the usual 17th and 18th century sepulchral slabs, the interior is largely Victorian, as are the plate glass windows which bear further testimony to the conflagration which is said to have consumed the church in the middle of the 19th century.
The church has a very fine western doorway from ca. 1220, a very good example of late Norman, almost Early English work in Hampshire, and a fine feature of a rather humble building with its excellent detail in Binstead stone from the Isle of Wight.
Information provided with kind permission of Jill Palmer.
Church of England Services
St Peter's, Hurstbourne Tarrant & St Mary's, Vernham Dean are now OPEN for private prayer and contemplation
For details of opening times please visit
http://www.pastrowbenefice.org.uk

Our local Sunday services in November are shown below.
Tuesday 2nd November: 7:30 pm All Souls Service at Hurstbourne Tarrant
Sunday 7th November: 10:00 a.m Pastrow Family Gathering at Christ Church, Hatherden
04:00 pm Holy Communion at Weyhill
Sunday 14th November: 10:45 a.m Remembrance Sunday Service at Hurstbourne Tarrant
10:45 a.m Remembrance Sunday Service at Vernham Dean
Sunday, 21st November: 08:30 a.m BCP Holy Communion at Hurstbourne Tarrant
10:00 a.m Holy Communion at Vernham Dean
Sunday 28th November 10:00 a.m Family Service at Hurstbourne Tarrant
10:00 a.m. Morning Prayer at Vernham Dean
Sunday 21 June (Second Sunday after Trinity):
Genesis 21: 8-21; Romans 6: 1b-11, Matthew 10: 24-39 (Psalm 86: 1-10; 16-17)
Sunday 28 June (Third Sunday after Trinity):
Genesis 22: 1-14, Romans 6: 12-23, Matthew 10: 40-42 (Psalm 13)
The Church continues to be alive and active, but our buildings must close.
We are seeing a huge increase in the number of people falling sick with COVID-19. We must distance ourselves from one another and prevent the spread of infection in order to save lives.
Therefore, as well as public worship being suspended, this and all church buildings in the Church of England are now closed.
Our worship of God and our care for each other continue but cannot be done in this building.
Our website contains details of how to join others for prayer, worship, study, and community life.
See www.pastrowbenefice.org.uk
The vicar/churchwardens of this church can be contacted in an emergency by telephoning 01264 736565 or emailing revtrev@pastrowfamily.org.uk
"Love the Lord your God with all your heart and with all your soul and with all your mind and with all your strength...Love your neighbour as yourself. There is no commandment greater than these."
To protect the vulnerable amongst us, please do not leave your home except for essential trips.
Our churches of St Mary's & St Peter's are currently CLOSED in accordance with instructions issued by HM Government and in common with all Church of England churches
Please see the noticeboards by the churchyards and at the Millennium Hall for details of our re-opening
The Foodbank collection point at St Mary's Church is temporarily closed to donations.
Until the church can re-open please take donations to the Stores in Enham Alamein or directly to the Foodbank
Particularly needed at present are:
Tinned Fish
Tinned Meat
Tinned Fruit
Tinned Rice Pudding
Sugar (500g)
Potatoes (instant/tinned)
Long life Milk
Long life Fruit Juice
Biscuits
Tinned Spaghetti/Pasta
Tin openers
Shampoo
Soap and Deodorant