Wildlife Jottings Jan 2022
Wildlife jottings from Vernham Dean
The end of December saw a very mild spell of weather, with some saying that the New Year period will be the warmest on record. The warmth certainly seems to have caused a few more insects, and even wasps to appear in the house.
My memory of the month of December was that it was quite wet, but when I look at the history from my weather station that is not the case. I recorded just 89mm of rain in the month compared to 143mm in December 2020. When I look in more detail, I can see that in December 2021 we had a little rain at the start of the month and then lots at the end. Whereas in December 2020 it rained on and off all month.
The rain certainly interfered with my bird surveys during the month – it is difficult to count birds accurately when the rain is anything beyond a light drizzle. I reported last year that I took part in the annual, European wide, Red Kite survey. I count the Red Kite coming into roost at Faccombe Wood. Last year there were 35, this year I counted just 14. I suspect the actual numbers this year are not down on last year. It was just that on the day the count was organised for the visibility deteriorated throughout the afternoon and at the time I would expect to see the largest number of birds, approx 16:15, it was raining and misty and the visibility was poor.
That was the case across the whole of Hampshire. Last year the Hampshire observers counted 685 different Red Kite coming into roost across the county, this year just 436. Most complained that they were struggling because of the weather.
There is a new roost building up in the fields between Vernham Dean and Upton. On a clear morning I have seen up to 20 Red Kite flying around as they move out of the roost - they were included in the Hampshire Red Kite count this year. They spend a lot of time moving around the fields looking for food – they are primarily carrion eaters. Great to see them twisting and turning in the air.
The hedgerows around those same fields have contained large numbers of both Fieldfare and Redwing. These are winter visitors to the UK. There are some trees just opposite the main entrance to Vernham Manor they favour for roosting in. So, first thing in the morning you can see them moving out of the trees onto the fields looking for their first food of the day. With the short winter days it is important they are allowed to feed freely, so I do my best not to disturb them by keeping my distance.
At the other end of the path across those fields, near to Upton Manor, small flocks of Chaffinch and Yellowhammer frequent the bushes there. I have searched carefully through both flocks looking for other birds that may have got mixed up with them. On a day just before Christmas, when the sun shone for a bit, I carefully scanned through the bushes checking each bird. And then……..a Brambling came into view.
The Brambling is a very pretty orange, white and black bird about the size of a Chaffinch. They winter in the UK and often mix with Chaffinch flocks. Any walk through the woods around Highclere Estate in late Winter is always good for Brambling – numbers can reach well over 100. But to get one in Vernham early in a mild Winter is excellent. If we get a cold Winter, they will come onto garden bird feeders. I see a few in our garden most, but not in all, Winters.
On my regular walks around Vernham Dean, during the Winter months, I see a number of flocks of tits moving along hedgerows. There will be the usual Blue and Great Tits in the flock and more recently I have seen the occasional Marsh Tit, Coal Tit and a few Long-tailed Tits in with them. The hedgerows around the church are good for these. It is always a delight to both hear and see Long-tailed Tits. They appear to never stop moving, flitting from one branch to another and constantly calling to each other.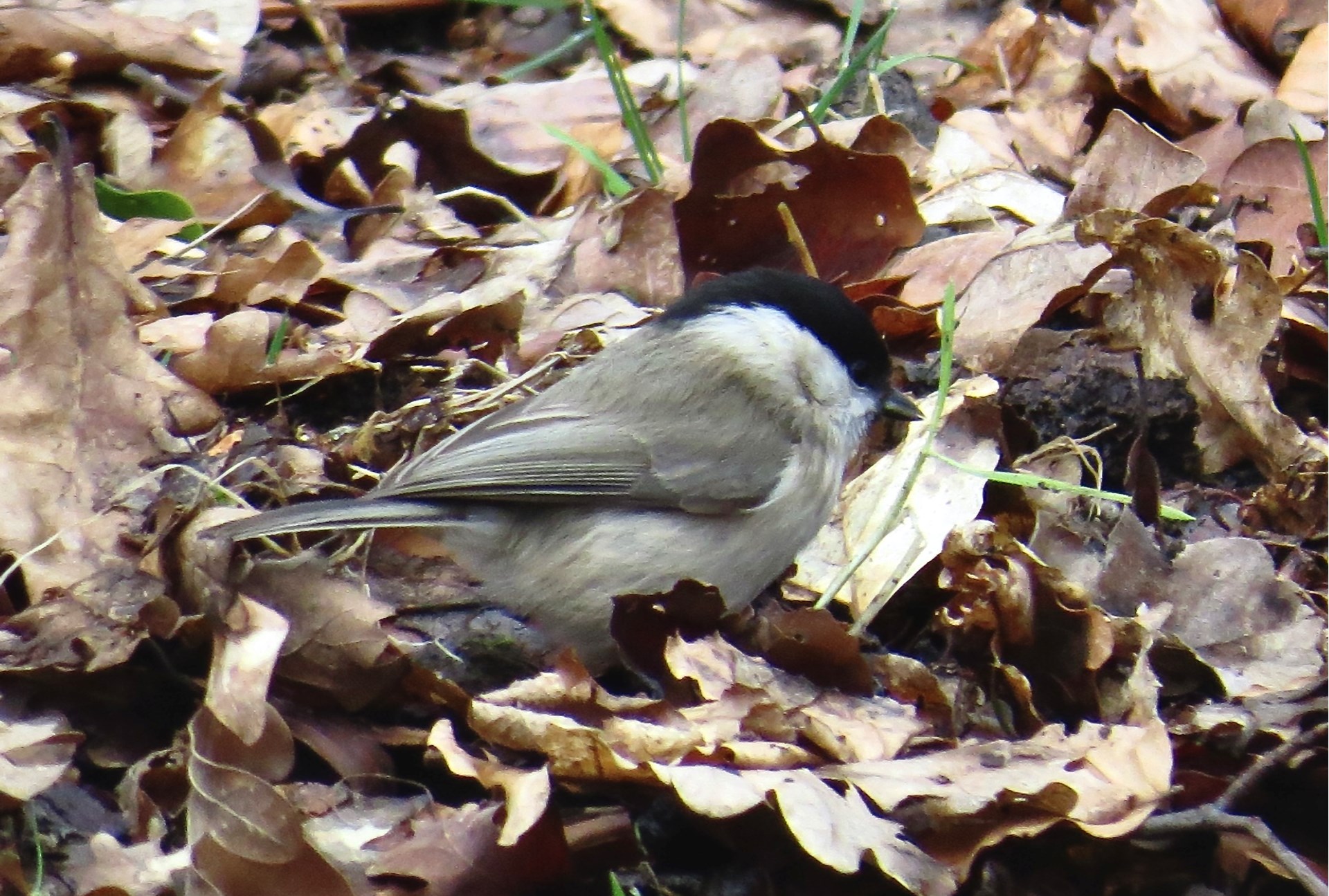 Marsh Tit
Long-tailed Tits are currently doing quite well with numbers increasing here in Hampshire. Their numbers tend to decline sharply after a harsh Winter – they are quite a delicate bird. After the cold weather and snow in November and December 2010 for instance, it is reported that there was a 17% decline in their population. According to the Observer's Book of British Birds Eggs (an excellent reference book I have owned since I was a child) they produce up to 12 eggs, maybe more, once a year. So, they have the capability of re-building their population very quickly after declines.
They line their nests with feathers. According, to the Observer's book one nest was counted as having over 2,000 feathers in it. Imagine having to pick up 2,000 feathers over a few days (in a beak) and then transport them to your nest and weave them into the infrastructure. Amazing!
A year or two ago a pair nested in the garden. When the youngsters fledged it appeared as though there was a Long-tailed Tits in every bush and tree. That made for an interesting and delightful couple of days until they dispersed. Not that they travel very far. They tend to stay close to the area they were born in.
The garden continues to be busy with birds on the feeders and enjoying the food they can find in the ivy-covered tree trunks. At this time of year ivy is an important source of food for lots of different birds.
A Hedgehog regularly walks through the garden and is, I hope, using the Hedgehog box I carefully put in place under a pile of logs some years ago. It is important not to disturb the box now as that will put any Hedgehogs off from using it.
A neighbour has reported a Fox walking through their garden into ours. The Fox seems to time its visits at times when I am out, so frustratingly, I have yet to see it.
It's not long until Spring!! The first migrant birds, Sand Martin and Chiffchaff, arrive back in the UK, about mid-March. I think that is a pretty good indication that Spring has started and that really is not that far away!
Natural History Book of the Month.
A book to enjoy, a nice short read, Skylarks with Rosie by Stephen Moss, one of my favourite authors. It is all about Spring 2020 and the start of the Covid pandemic with the author having more time to take the opportunity to note what is happening in nature around him. He lives in a small village in Somerset.