Wildlife Jottings May 2020
Published in Focus Magazine May 2020
Well what an unusual period we are living in! We returned from our overseas holiday with no delay issues, by the skin of our teeth. On arrival home we went straight into lockdown.
The organisations that manage the various bird surveys I get involved with each year have told us not to undertake any bird surveys this year. However, I did manage to survey the woods above Hurstbourne Tarrant before we left for holiday at the beginning of March. On my first pass through the woods I found no Willow Tits – a rapidly declining species in the UK that still has a small breeding population in Hampshire. I went back a few days later – it was a better day, the sun was shining, and eventually I found two Willow Tits in the woods there. Not a great result, there have been up to 4 in recent years, but at least they are still there.
Back in the village and in lockdown I decided to use my hours exercise each morning to do different routes around the village each day of the week and count the birds etc that I come across on the way around.
From the last full week in March the most obvious new arrival in the village was a Chiffchaff. A small number of Chiffchaffs over-winter in the UK, but mostly they are a migratory species. Most of the UK population winter in southern Europe, although some UK ringed birds have been recovered on the north and western coasts of Africa – in Morocco, Mauritania, Guinea-Bissau etc and inland south of the Sahara. Bird books describe them as short-distant migrants! Maybe compared to some other species they are, but Guinea-Bissau is 4,000 miles away and it would take 3 days to drive – non-stop – to get there from Andover!
The male Chiffchaff is thought not to help with either nest building or bringing the young birds up. These tasks are mostly left to the female. His 'tough' job is to sit in the top of a tree high above where the nest is singing 'chiffchaff-chiffchaff-chiffchaff' for most of the day.
There are over 1 million Chiffchaffs in the UK in the summer, so it is a bird very easy to hear – thanks to the hard-working male - somewhat more difficult to see. They weigh slightly less than a £1 coin and are brownish green in colour. Being able to see a singing male in the top of a tree can be a frustrating challenge. Despite their somewhat dull colouration I think they are a lovely bird and I always look forward to hearing my first Chiffchaff in spring. The males typically start singing from mid-March.
On another walk heading towards Conholt I spent some time exploring the bushes on the side of the hill. These are always good for migrant birds. It is now mid-April and on the walk up the hill I heard my first cuckoo of the year. This is no longer a common bird in the Test Valley area and therefore the 16 April was already going to be a special day. I soon heard what I was looking for – the lovely descending song of a Willow Warbler.
This is another small bird, the same size as a Chiffchaff, and looks remarkably similar. In fact, when I was a boy we used to refer to little brown green birds as Willowchiffs because we could not distinguish between the two species. Nowadays with better quality binoculars, more information and with many years of practice it is relatively straightforward to distinguish one from the other.
Willow warblers are 'long-distant' migrants. Most of the UK population winter in places like the Ivory Coast, Ghana etc. – about 4,500 miles from us and a 4 days continuous drive from Andover!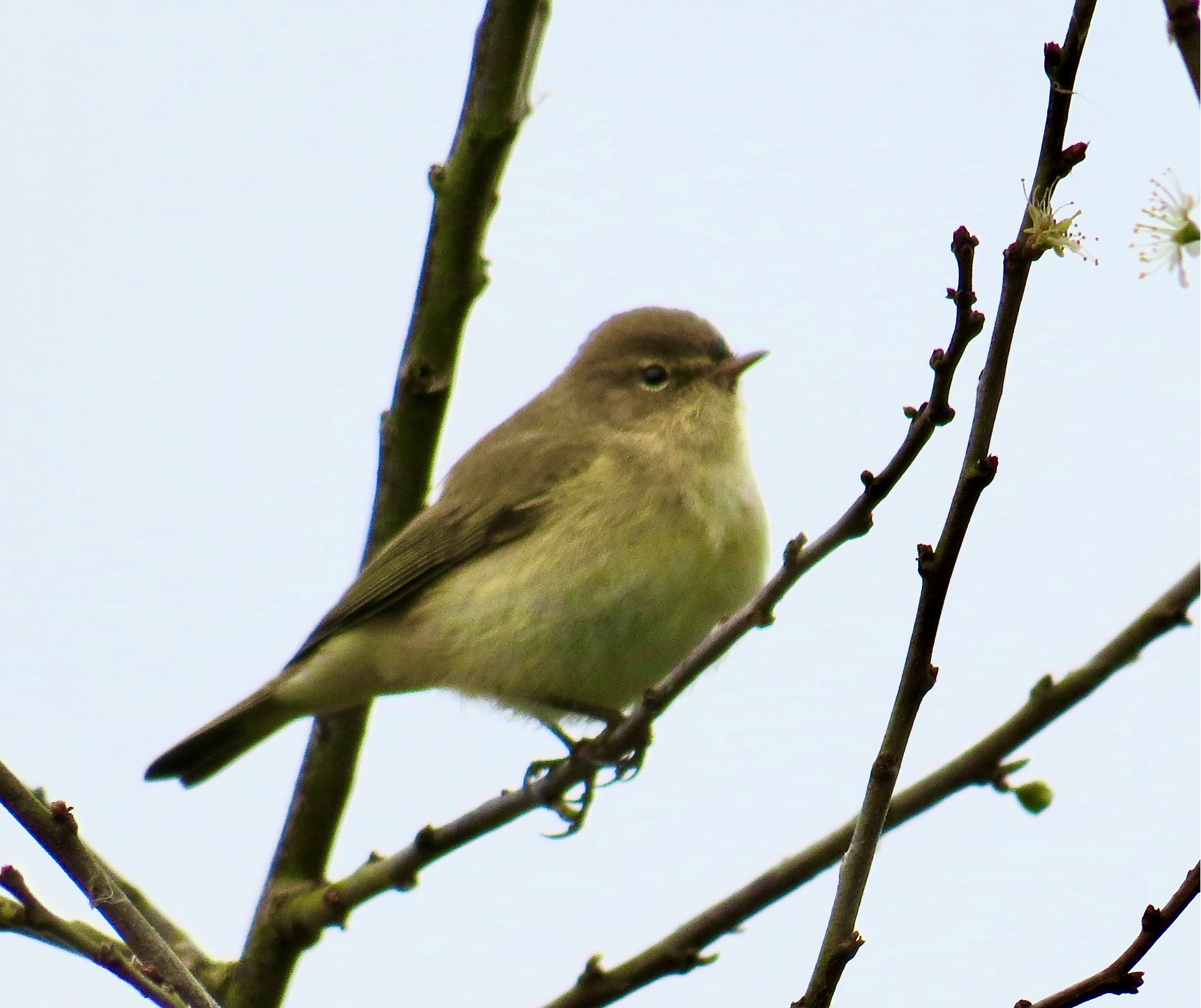 Willow warblers have longer and more pointed wings than Chiffchaffs (one of the features you can see with practice, to help identify them). It is thought that because of their longer migration they have evolved in this way. But that's another story and one that fascinates me – I am not convinced the extra 500 miles migration makes that sort of difference. There is a lot yet to discover!
They are also greener than Chiffchaffs and in good light you can clearly see that the Chiffchaff is brown / green whereas the Willow warbler is green / yellow in colour.
Back to Conholt Hill. A very pleasant 15 minutes or so listening to the three singing Willow Warblers and a few Blackcaps and then I heard something else. A little bit of searching the hillside soon found what I was looking for – a Tree Pipit. Yet another migrant - there is a theme to this article!!
Less is known about Tree Pipits – there are fewer of them in the UK, probably less than 100,000 birds in total, but from a small number of ringing recoveries it can be seen that our birds winter south of the Sahara, some as far east as Ethiopia (6,000 miles and 6 days continuous driving). Tree pipits sing from the tops of trees and they display by flying upwards and then parachute down to another tree / bush perch singing as they fall. I would have happily spent the rest of the morning watching the Tree pipit on my 'special day'. But one hours exercise is the limit!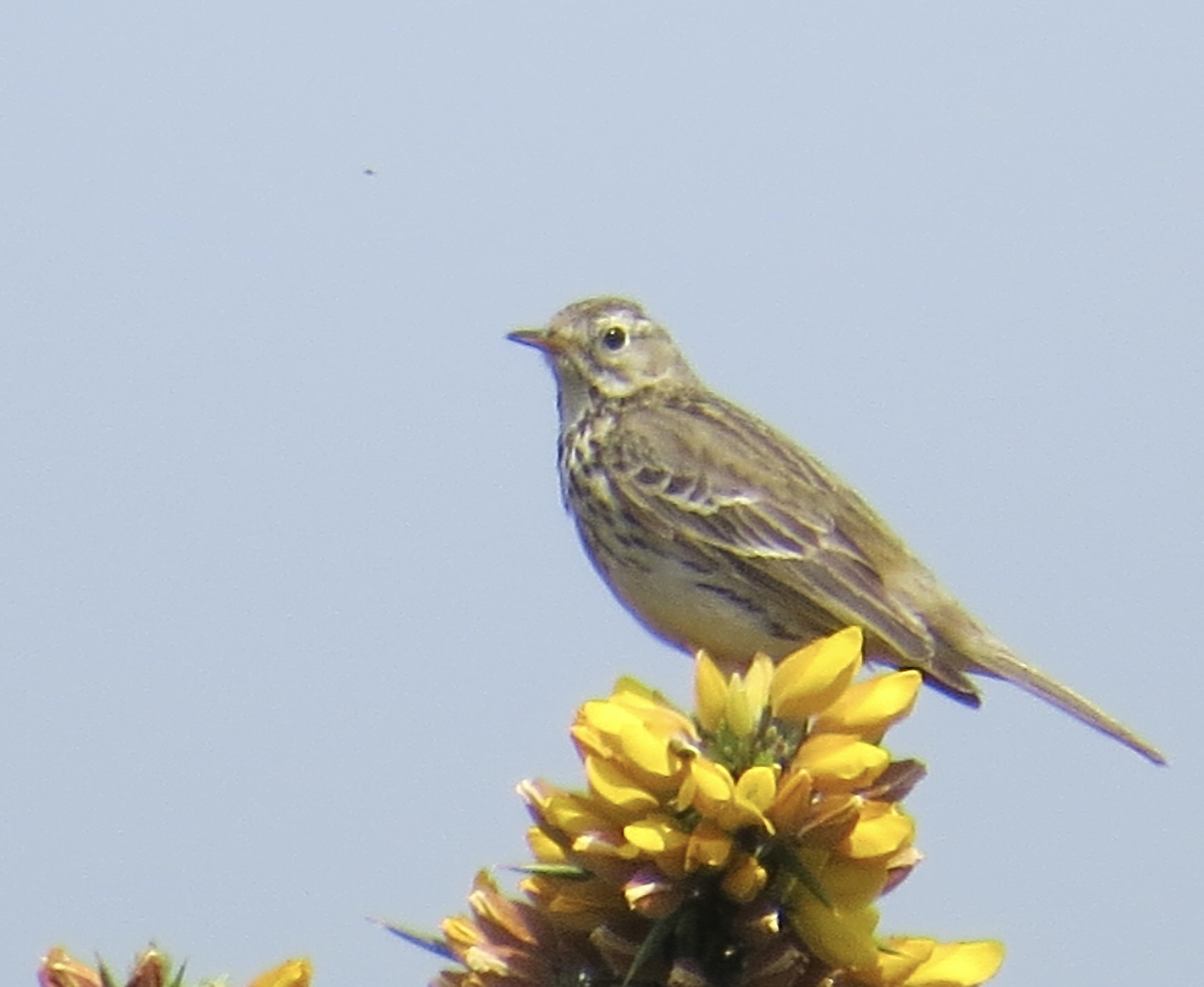 Tree pipits are yet another declining UK species of bird (something like 30% over the 15 years immediately preceding 2010 – when the last nationwide survey was completed). However, there is some good news in our part of the world – in a small patch a few miles wide, north of Andover - for reasons that are not entirely clear, there has been an increase in the number of breeding Tree pipits. Long may that continue.
I am now running out of room to cover all the other things I want to say – I will be in trouble with our Editor! But there is just so much going on at this time of the year.
I have mentioned breeding Peregrines in Andover previously. I can report that a pair are breeding successfully on St Mary's church. And even better you can watch them at the nest - see https://www.youtube.com/watch?v=3fBC-KEcmBA
They have, I think, three eggs.
And White-tailed Sea Eagles are a Hampshire bird again. A small number of young birds have been released on the Isle of Wight. Juveniles wander widely, it is possible one may go over us here. See http://www.roydennis.org/isleofwight/
If you see one, do let me know – johnhalelho@btinternet.com.
They are huge birds – flying barn doors!!
My natural history 'Book of the Month'
Wild Hares and Hummingbirds by Stephen Moss. The author lives in Somerset and describes a year of the nature he observes in his village. His book is beautifully written, and the natural history well observed. An uplifting read.