Wildlife Jottings Sep 2020
Wildlife jottings from Vernham Dean
As we move into middle / late summer the sound of bird song in the village stops – almost silent! The male birds have defended their territories and attracted their mates for the season. Hopefully, between them they have also produced at least one set of youngsters. So, the need for song goes away until later in the year / next year as they start to get ready for the next breeding season.
A few weeks ago, it seemed as though Blackcaps were singing from every bush in and around the village. On any walk through the village I counted double digit numbers of Blackcaps. Now they are mostly silent, just the odd contact and alarm calls.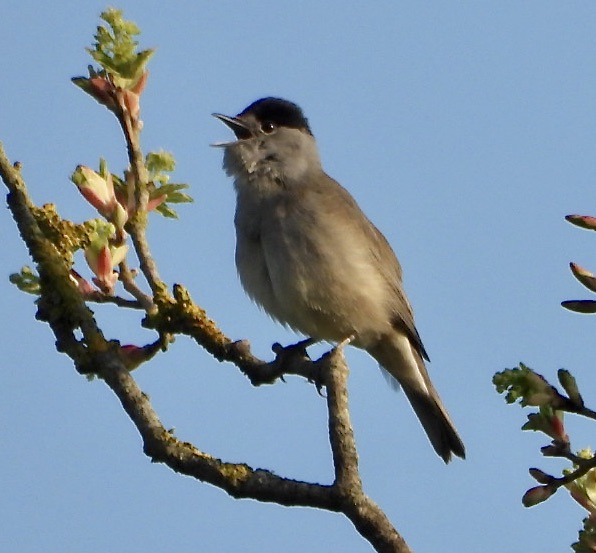 Another very noisy and common bird is the Wren. – the commonest bird in the UK. With such a mild winter for 2019 /20 good numbers of this small, delightful little bird survived. Just like with the Blackcaps you had the feeling there was a Wren singing in every bush. They have also mostly gone quiet now.
Lots of the garden birds that have survived the summer or indeed been born this summer will make up loose flocks moving around our hedgerows feeding and for some moulting and replacing worn feathers, so they are ready either for the long migration south or for a British winter.
Whilst these birds may not be singing, they still make, usually quieter, noises, as they make contact calls with other birds and the louder alarm calls if they spot danger.
I come across small flocks of birds travelling along hedgerows most days at the moment. They often contain an assorted variety of adults and juveniles of Blue and Great Tit, (sometimes Marsh Tits as well), Chiffchaff, Whitethroat and Blackcap. If you see one of these flocks it is well worth standing still and staying quiet tor a moment to see what is in the flock.
Whilst walking through the church yard in late July I came across a pair of Spotted Flycatchers. They eat insects, butterflies, moths etc. The Flycatcher will sit on a twig waiting for a tasty treat to come by and fly up to get it, often landing back on the same twig. This is a plain brown bird on first sight but look more closely and they are a beautiful looking smart bird.
Spotted Flycatcher are long distant migrants, usually arriving here in late May before they return to the southern part of Africa during mid-August to early September.
A pair did try to breed in a garden on Bulpits Hill earlier this year, but I think that nest failed. They were certainly present for a week or two and appeared to be going in and out of the same bush on a number of occasions. I wonder whether the pair I saw in the church yard (only there for a couple of days) were the same birds?
It was also good to see Willow Warblers in the church yard area. These birds migrate through Hampshire with some staying to breed. They tend to disappear in the village area during mid-summer. We see a few of them again on their return migration. I first heard this bird singing – not having heard a Willow Warbler for a few weeks there was a moment when I had to think hard as to which bird the song belonged to. Not only did I hear the Willow Warbler sing, but I also saw a pair of them feeding in the bushes on the edge of the church yard. At this time of year they are quite a bright yellow / green bird.
There have been many highlights of this summer that have all helped to keep me smiling throughout:
Finding a Little Owl - in the bushes on the edge of the field beyond the Playing Fields. This is the first Little Owl I have seen in 6 years – anywhere in the UK!. A few years ago, I saw Little Owls most days. It is not a true British bird but was introduced in the 19th century. It did well for many years. In recent years there has been a decline in their numbers. It is thought the increasing numbers of Buzzards are a problem for them and changed farming practice means there are fewer beetles – one of their main foods.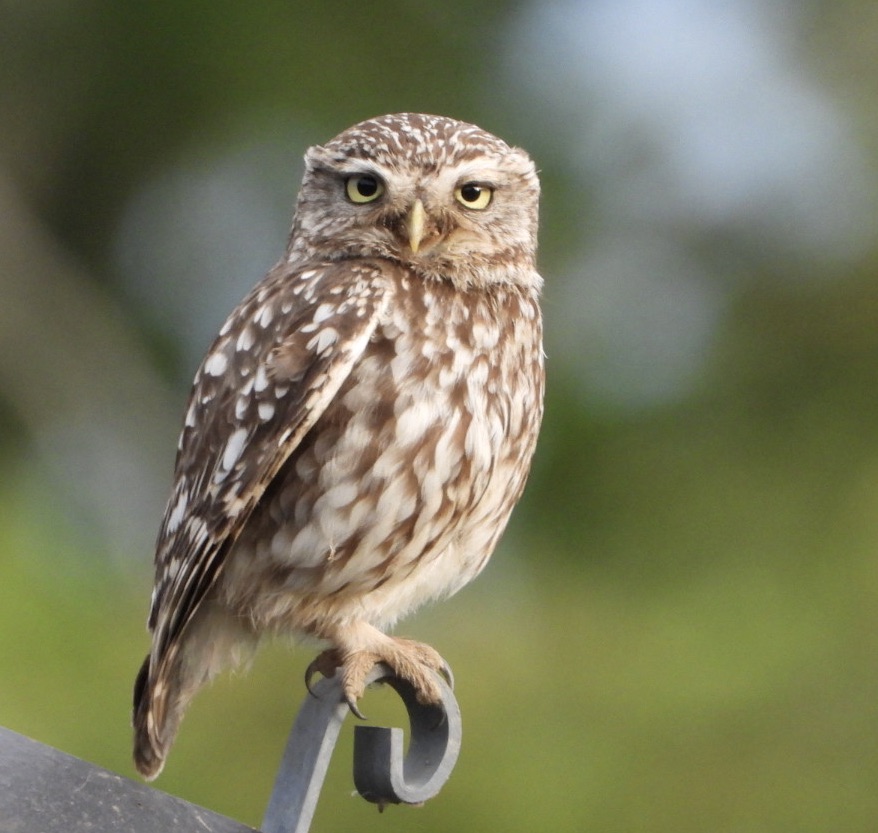 Along the Hippenscombe Road a pair of Stonechat have bred. And produced at least three young. I checked back against local records for the area and this is the first time there has been a record of breeding Stonechat in this area. A lovely success story!
On the hillside next to the Hippenscombe Road a pair of Tree Pipits successfully raised at least 3 young.
Finding many patches of Orchids on the hillsides surrounding the village. We have spent many a happy hour on hands and knees inspecting them to try to identify them. Among those found have been Common Spotted, Pyramidal and Early Purple Flowering.
Lots of Hares in the fields surrounding the village
Lapwings bred on a field just behind Upton Manor. Over the last few weeks there has been a small flock of 12 Lapwing feeding on the same ploughed field.
A regular Hedgehog visiting our garden
Watching the butterflies on the grassland above Hippenscombe Road. Probably the Marbled White is my favourite one there.
I set my moth trap in the garden at least once a week – no moths are harmed!
During the summer months we have enjoyed seeing many varieties of moths, some of which I can identify. Some are more of a challenge – too many brown ones with just a small squiggle that separates them from other species.
Some of the more interesting looking species have been:
Poplar Hawkmoth (large and unusual shaped wings – see below)
Privet Hawkmoth (large, brown with a splash of pink)
Small Elephant Hawkmoth (lots of pink)
Elephant Hawkmoth (larger, with quite a lot of pink)
Large Emerald (green!)
Magpie Moth (black, white, orange)
Beautiful Carpet (black, white – very pretty)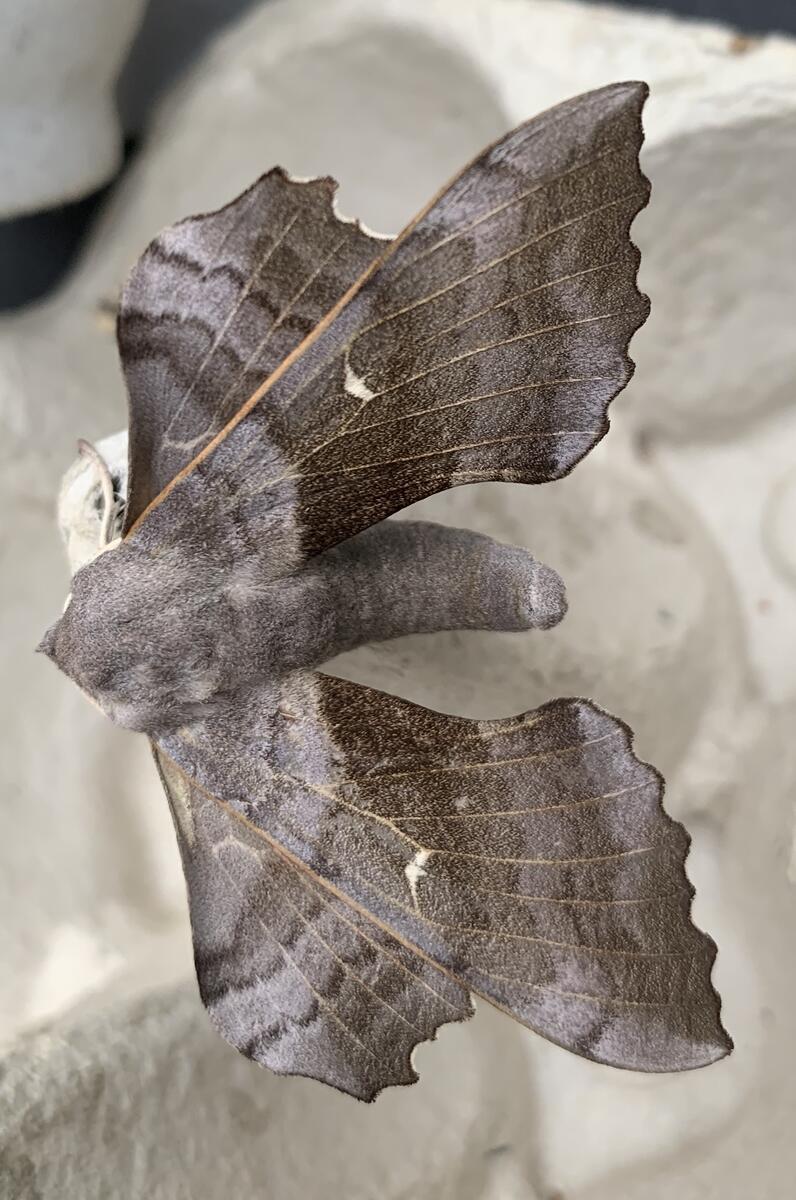 There have been many more varieties. It is surprising just how many different types of moth there are and in fact how attractive they are – even the brown ones!
Other sightings
If you see anything interesting in the village area please let me know – email johnhalelho@btinternet.com
Natural History Book of the Month.
Once we get to July each year, I look forward to seeing Purple Emperor butterflies. They are fascinating creatures and the males very aggressive – in a fluttery type of way. The UK expert on this butterfly – Matthew Oates - has just published – His Imperial Majesty. A Natural History of the Purple Emperor.
A great read and written in a very engaging style. It is almost as if Matthew is talking to you.