Natural History
We live in a beautiful part of the UK. It is always a joy to drive into Vernham from any direction. The tree lined road, green in summer, bare sculptured branches in winter, the backdrop of Fosbury Hill Fort and the village nestled into the valley bottom. Wildlife is abundant throughout the year; it's just a matter of looking in the right places.
Winter
On a cold winters day there will often be a mixed flock of thrushes, Fieldfare and Redwing feeding on the playing fields. These birds breed in northern Europe and spend their winters in the milder climate of southern Europe including the UK. They arrive (and depart) in large flocks and often feed on the ground. When these flocks fly over the village the distinctive call of the Fieldfare, schack-schack-schack, can be heard.
The Crab Apple tree on Bulpits Hill is another good place to see Fieldfares. They love to eat fruit and the tree will feed a small flock of Fieldfare and also Redwing for a few days. Mistle Thrush can sometimes we seen in this area as well.
Not far away on Bulpits Hill are a few coniferous trees. These are good for Goldcrest, Coal Tit and the very occasional Firecrest.
Whilst looking up to see these thrushes fly over, as they arrive or depart, there is every chance that you will see a Red Kite. They can be seen gliding over the village all through the year. They are primarily scavengers. Their effortless flight as they soar and twist and turn is a wonder to watch. The UK nearly lost the Red Kite as a resident bird – just a few left in Wales – until a reintroduction program has resulted in them now being an easy species to see across some parts of the UK.
Until recently there was a major winter roost of Red Kite at nearby Faccombe – up to 60 birds being observed coming into roost in an evening in 2014. Numbers now are much reduced in Faccombe, as they have found other places to roost in the area.
Large numbers of Raven can be seen in the Faccombe area – up to 80 birds at one time in early 2016.
In late winter afternoons or early mornings there will occasionally be a Barn Owl hunting for voles in the field next to the playing fields.
For those who put out food and water for birds, winter is a particularly interesting time. There is a large variety of birds to enjoy. From the more common species there will be flocks of tinkling Goldfinch and also good numbers of Greenfinch, Bullfinch and Chaffinch. In addition, there will probably up to 5 different species of tit. Blue and Great tits will be in almost every garden. Coal Tits will dash in and out from feeding stations, barely stopping still for a few moments as they feed and move back into the safety of a nearby bush. A few Marsh Tits live in the village in the winter and readily come to feeders. And there will invariably be flocks of the delightful Long-tailed Tits moving along hedgerows constantly calling to each other and occasionally coming into feeders.
From time to time in the winter a Blackcap will appear at bird tables – this is normally a summer visitor to our shores. Small numbers, however, winter in the UK.
When the winter turns really cold a few Brambling will move into the village looking for food. They are similar in shape and size to the common Chaffinch, but have a distinctly orange breast.
On bird feeders, usually in late winter, the tiny canary like Siskin will come into feed. Along with Siskin a few Lesser Redpoll turn up most winters. In some winters Common Redpoll – curiously less common than the Lesser Redpoll – will be mixed in with these flocks.
When driving into or out of the village from the Upton side it is worth watching out for Woodcock in the woods by the roadside. They winter in the area – they used to breed but probably no longer do so here – and they can sometimes be seen feeding on the roadside early in the morning and in the evening.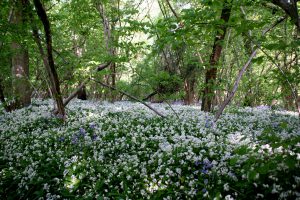 Spring
The first sign of spring from a bird watcher's point of view, in this area, is to hear the call of a Chiffchaff – a small green / brown warbler. They tend to sit towards the tops of trees and bushes constantly singing their name. Listen out from mid-March onwards. Although small numbers of these birds winter in the area, most migrate into the UK from places like Spain and north Africa.
A walk up to Fosbury Hill Fort in the spring is generally well worth the effort of the long climb up. The view from the top is always a delight and makes one realise just how small the village is, set into this beautiful landscape. Depending on weather conditions and timing there is always the chance to see migratory birds on the hill in the spring. These are stopping off to feed, before they move on to somewhere else where they will spend the summer.
Each year a small number of Ring Ouzel (similar to a blackbird with a white crescent on its chest) will arrive on the hill, feed for a day or two and then head off further north to breed. They are not easy to find on Fosbury Hill.
An easier way to see them is to head up to nearby Combe Gibbet and search the northern slopes of the hill under the Gibbet – Ring Ouzel are seen there every year in small numbers. The treeless slopes of Combe Gibbet make them easier to spot than on Fosbury. In mid-April 2015 a record breaking flock of 52 were seen – most of them staying for less than one day.
Coming back to the Fosbury Hill Fort area this is a good place for Willow Warbler in the spring. This is a declining summer visitor in our area, but as large numbers migrate through Hampshire they are easy to see and hear. This is another green / brown warbler very similar in appearance to the Chiffchaff but easily separated by their song. The Willow Warbler, sits towards the top of bushes and trees and sings a soft, sweet, descending 3 second or so song, which is repeated frequently.
Occasionally in the bushes on the slopes of the hill a Redstart can be seen. Again these are migratory birds – although some breed in the New Forest. The stunning bright red male Redstart is a real visual treat. They are shy birds and sit in the middle of bushes, coming out briefly to feed. Patience is required to see them, but well worth the effort.
Those same bushes may also have Woodlark sitting in the top of them. This bird is slowly increasing in numbers, although at the moment in our area, there are very few of them.
Stonechat can also sometimes be seen around the bushes near the earthworks at the top of the hill.
A long distance migrant that stops off to feed in the Fosbury area is the Wheatear. Typically coming through the area in April of each year. They can, usually, be seen feeding on the ground. Whilst looking on the ground look for Meadow Pipits feeding in the fields around the Hill Fort area.
And of course, as we are looking for birds, it is essential to look upwards and at this time of year Swallows and House Martins will be arriving into the area to breed. These will be seen on warm, sunny days high up in the air feeding on insects. On cloudy days they will move lower down. The sometimes flooded horse fields between Ibthorpe and Upton are a good place to see flocks of these birds feeding as they arrive and get ready to depart in the Autumn.
A distinctive bird that can be seen and heard in the fields around the village is the Skylark. The Skylark is in serious decline – a 62% reduction in numbers across the UK between 1967 and 2011 (Source: Bird Trends), but although declining, in Hampshire it is still easy to see. Their song flight – hovering and singing their hearts out – is a real joy to sit and listen to.
Another declining species is the Yellowhammer. From spring though to summer they sit in hedges next to farmland singing 'a little bit of bread and no cheese'. Their bright yellow colouring makes them an improbable British bird.
And a spring would not be complete without a walk into the local woods to see the carpet of Bluebells. Often in the same places Wild Garlic can be seen and of course there is the distinctive Garlic smell. Also look out for the dainty Wood Anemone, usually finding a corner in the vast carpets of Bluebells and Garlic.
When in the woods listen out for the drumming of the Great Spotted Woodpecker – a common bird in the area.
And another indication of Spring is the arrival of the Cuckoo. They can usually be heard calling from the end of April. Although they migrate many thousands of miles to get to the UK from West Africa they tend to depart back to their winter quarters quickly – perhaps as early as July. Seems a long way to come for a 3 month stay!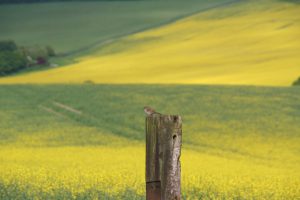 Summer​
As spring turns to summer the abundance of food means the serious business of breeding takes place.
The Rooks start to rebuild their nests in the Rookery in the trees behind our church – St Mary the Virgin. The noise and activity levels increase as they get ready for breeding.
In our gardens many nest boxes will soon be occupied by either a Blue Tit or Great Tit. Robins will also readily use an open-fronted nest box, although because of the open-front and the fact they like to nest low down their nests are easily predated.
Wrens too may sometimes use a nest box. In 2016 we enjoyed watching a brood of Wrens leaving a nest box in our garden – there seemed to be young Wrens everywhere in the garden for the next day or two.
If you keep a compost heap, there is a possibility of a slow worm making it their home – the warmth of the composting material making it an ideal place for them. They are not a common sight in the village but with careful searching can sometimes be found.
Bats also become more active at this time of year. The mad dashing, up down, turning of the Pipistrelle Bat is good to see on a summer evening. They are present in good numbers throughout the village.
A breeding bird survey of the birds and mammals of Oakhill Wood (on the north-west edge of the village) has been conducted since 1994. Whilst the wood itself is private land and public access is not allowed there is a public footpath – leading up to the earthworks on Fosbury Hill – that runs along the south side of the wood.
The survey is primarily aimed at monitoring the populations of breeding birds and is organised by the British Trust for Ornithology. In 2015, 3730 other areas around the UK were surveyed in a similar way and this is repeated each year. For each survey plot two separate walks through the area are conducted twice a year at the peak of the breeding season. Each walk takes approximately 2 hours
Moving back into the village itself a walk past the school is a chance to see and hear a small flock of House Sparrows. They breed in the area and usually spend a lot of time sitting in the hedge opposite the school, chirping away to each other – yet another declining species.
Nearby at Conholt House there is a House Martin breeding colony. The lovely gardens are always worth a visit when they are open to the public (usually twice a year). An added bonus of a visit to the gardens is to enjoy a cup of tea and slice of cake whilst watching the House Martins coming and going above you.
A Spotted Flycatcher (another long distant migrant, also in serious decline – 90% decline since the 1960s, source – Bird Trends) has been observed nesting in a hole in one of the outbuildings at Conholt House. They are also reported occasionally in the village as well. Their name helpfully describes them well – they will sit on a branch and dash out to catch an insect and then land back, usually on the same branch. This is repeated many times.
It is always worth keeping an eye out for what flies over the village. In the summer of 2016 a workman in one of the fields on the eastern side of the village reported a Goshawk flying over. A large bird of prey and one that is increasing in the UK.
It is also possible that an Osprey could fly over as they migrate – many parts of the UK see them regularly on migration. Keep your eyes peeled!
Not far away from us in the woods outside Hurstbourne Tarrant and also at Faccombe the increasingly rare Willow Tit breeds. These are difficult to tell apart from Marsh Tit – song is the best way. Over the last year or two a small group of local birdwatchers have surveyed each of our local woods to establish what the population of this bird is. The good news is there are more of them than originally thought, however, the bird is in decline – 89% decline in the UK between 1986 and 2011 (source – Bird Trends). A small population has managed to hang on in Hampshire and work is underway to find out if there is a way to help them.
In late summer Green Woodpecker are often seen feeding on ants on village lawns.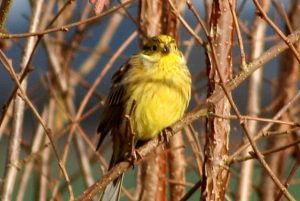 Autumn​
One of the delights of Autumn is to watch the leaves on the trees on the edge of the playing field turn colour and then fall off as Autumn makes way for Winter.
The bird and animal life of the area is getting itself ready for the long winter months. Jays and squirrels are busy hiding food – often in our lawns – so that they have enough to survive through. Many other bird species are about to start their long migration south. As a result, it is at this time of year, much the same as Spring, where the populations change and there is an opportunity to see something a bit different, albeit sometimes only briefly.
The Carrion crows, Rooks and Jackdaws now form large flocks and feed in the fields around the village. In the late afternoon they will take off and fly across the village heading to their night-time roost. The sight of a large flock of these birds, all calling to each other, is a spectacle to enjoy at this time of year.
The flocks of Swallows and House Martins increase in size as they circle above the village feeding to prepare themselves for their long journey south.
An occasion Whinchat can be seen, perhaps sitting on a fence post feeding on insects. Ring Ouzel and Wheatears make their return migration through the area.
In the hedgerows flocks of tits gather, post breeding, and move along the hedges chattering away to themselves. The flock is constantly moving, looking for food. Mixed up with these flocks can be a variety of other interesting birds – Chiffchaff, Willow Warbler, Blackcap or perhaps something rarer.
Tawny owls will once again start calling to each other and as winter arrives they become easier to hear. A great place to enjoy Tawny Owls is the churchyard of our local church – St Mary the Virgin. A pair is resident there all year.
And finally..
​
Inevitably with a summary like this I will have missed out many things that others will have seen and enjoyed in the village. If that is the case, please let me know about them and I will update this article with your sightings.
My interest is primarily around birds – and I am sure I have missed many of those in this article – so if you can tell me about the birds, animals, butterflies, insects, reptiles, dragonflies etc. of the area please do so.
Of particular interest will be observations of Hedgehogs. Do you have them in your garden? We occasionally see one, but not on a regular basis, despite my carefully sighted Hedgehog box under a wood pile.
If you have any interesting or unusual wildlife sightings please let me know so that they can be included in regular website updates.
Contact details:
Email – johnhalelho@btinternet.com
Phone – 07967 564491