Wildlife Jottings Mar 2022
A number of villagers have told me that they had fewer birds coming to their garden feeders throughout quite a lot of the Winter. Is that something to be concerned about?
It is probably the case that with such a mild winter there has been plenty of natural food around for the birds, so less need for them to come into garden feeders. As the Winter turns into Spring and their natural food supplies reduce, we normally see more birds coming into feeders. That has certainly been the case with the feeders in my garden, over recent weeks.
During February and March, we have seen Siskins and Redpoll coming to the garden feeders – earlier in the Winter these were absent. Chaffinch, Greenfinch and Bullfinch numbers have built up over the last few weeks as well.
Repolls are interesting birds in that there is a wide variety in their plumage and therefore much debate as to whether they are all the same species or in fact several different species. The ones we see in our gardens here are usually referred to as Lesser Redpolls and are at the smaller, browner end. Other 'versions' of Redpoll that are found in Scandinavia, for instance, are larger and much whiter in their Winter plumage. But they can turn up in the UK. All very confusing when you are looking at them in poor Winter light and the fact the bird you are trying to identify will just not sit still!
Their colloquial name is Blushing Sparrow. It's a small brown bird with a touch of red around their head and therefore quite a good description!
With so many birds at the feeders in our garden that attracts the attention of the local Sparrowhawk. I see him zip through the garden on a regular basis, putting up all the small birds who quickly retreat to the bushes and trees around the feeders.
Out and about in the village there are lots of wintering Thrushes present – Redwing and Fieldfare. They will often be feeding on the ground in fields and at the sight of somebody walking towards them will all fly up into a nearby tree to wait for the passer-by to move away.
In the flock there will be a few Starlings as well. I am seeing an increasing number of Starlings in and around the village – there was even a small Murmuration of Starlings over the village at the end of February.
A Murmuration is a large group of birds, usually starlings, that all fly together and change direction together. Starling murmurations are one of the most dazzling displays in the natural world. Sometimes they will include hundreds of thousands of birds – our one was probably just 200 Starlings.
When I first moved into the village, a little over 10 years ago, I rarely saw Starlings here, so that is a good sign of a recovery in their numbers.
I have seen some Brambling around the village this Winter. A Brambling is very similar to a Chaffinch – the males have an orange breast instead of pink. They often mix with Chaffinches in a flock in Winter. So, a little patience working your way through a flock of Chaffinch can often be rewarded by the sight of what is, I think, a very pretty bird. I have even had the odd Brambling in the garden over the Winter. They normally only come to my garden seeking food when there is snow on the ground.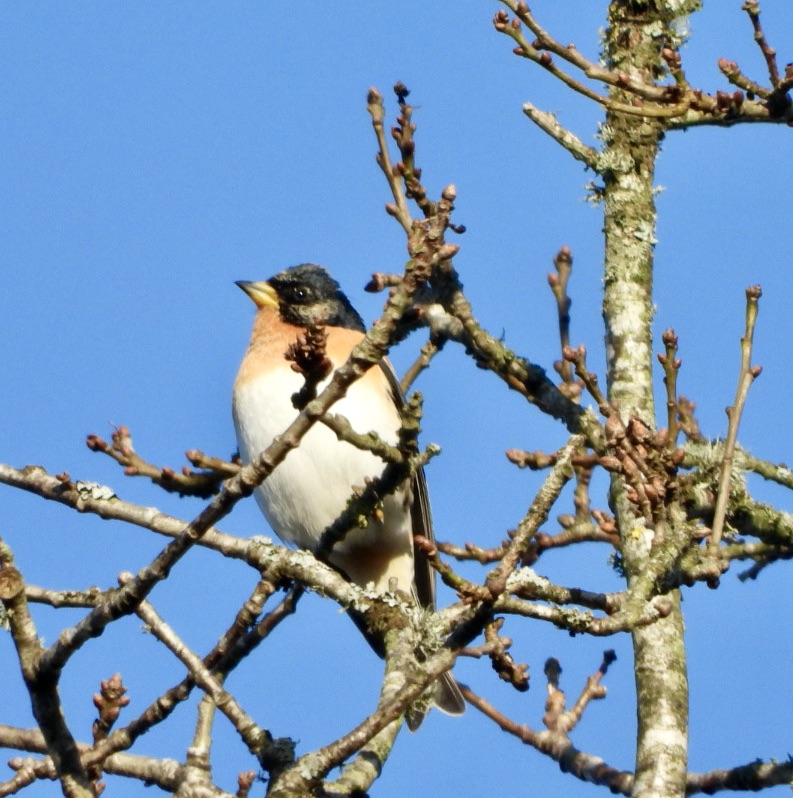 Bramblings don't usually breed in the UK so the ones that we see will return, in early to mid-April to their breeding grounds. They migrate long-distances, often travelling at night-time. Our birds may breed in Sweden, Norway, or further afield in Finland and even Russia. It is thought that they fly across the North Sea to get there. Amazing that such a small bird can travel so far across such a large empty space they cannot land in.
If you are heading into Andover, take a look at St Mary's Church. The Peregrines have returned and they look like they are going to breed there again this year. If you are lucky, you may see them flying around in the area. Their nest site is at the top of the main tower and cannot be seen from the ground. However, the good news is that there is a camera focussed on them and you can watch their progress by going to:
https://www.youtube.com/watch?v=3fBC-KEcmBA
As I am writing this the female has been in camera for a long period of time and not moved very much.
It looks like Barn Owls had a good year in the village with a bird seen regularly hunting the fields near to Bury Dene and another at the other end of the village, by the S bend. They have both been active early in the morning, but after sunrise, so great views of them ghosting over the ground looking for their prey.
There is probably at least two other Barn Owls just outside the village – but within walking distance of us. It would be wonderful if they all managed to breed this year.
Natural History Book of the Month.
With Summer on the way it is time to start improving my moth ID. To whet my appetite before I refresh my memory on the many different types there are I have just read Much Ado About Mothing by James Lowen. It covers his experiences over a year as he searches for different moth species.
Did you know for instance that:
some moths can't fly
one can survive under water
many moths cannot feed so just survive to breed and then die.
All covered in the book. But my favourite fact is that there is a micro-moth that moth enthusiasts call Geoff. It does not have an official English name – its scientific name is Alabonia geoffrella. And even better it is a very pretty, albeit tiny, moth that you can see in Vernham in May / June each year. A careful search of hedgerows is required – on the side of the road just beyond Vernham Street has yielded a few in previous years. But a moth called Geoff – really!!