Wildlife Jottings Feb 2021
Wildlife jottings from Vernham Dean
On a cold, winters afternoon at the end of December 15 bird watchers across Hampshire went to 15 known Red Kite roosts, to count the number of birds coming into roost at night-time. In total, over 685 different Red Kites were counted.
We see Red Kites around the village when most of the time, sometimes in small groups. These roosts generally hold large numbers of birds. The highest count, in our survey, was over 100 birds at one roost. During the winter months the birds come to places where they can roost safely and be with other Red Kites over the long winter nights. As the winter progresses the numbers increase and then tail off as we approach spring.
My assigned patch was Faccombe Wood – a well-established roost site that I have checked every year over the last few years. Bird numbers vary but this year was a good year with 35 birds coming into roost. Looking back over previous records that is not the highest count. In the winter of 2011/12, for instance, the January count was 40 birds at Faccombe and then in December later that year 56.
To count the Red Kite going into roost I need to find somewhere where I can see them flying in. There are two places I tend to use, both just outside Faccombe. I get a good view of Faccombe Wood and surrounding countryside from either site. Having chosen my spot for the afternoon it's a matter of wrapping up warm and standing there scanning the sky looking for the incoming birds.
The speed and number coming in always surprises me. At 3:30 in the afternoon I could see 6 or so Red Kite, quite distantly, plus 2 or 3 close-in, flying low-down. I decided to put my telescope up to get a better view of the distant birds (there are always a few Buzzard mixed in with them and I did not want to count them as Red Kite). The next time I looked there were 24 birds in the sky. A few minutes later and my count reached 35 Red Kite in the air at the same time – 3 Buzzards were flying around in addition.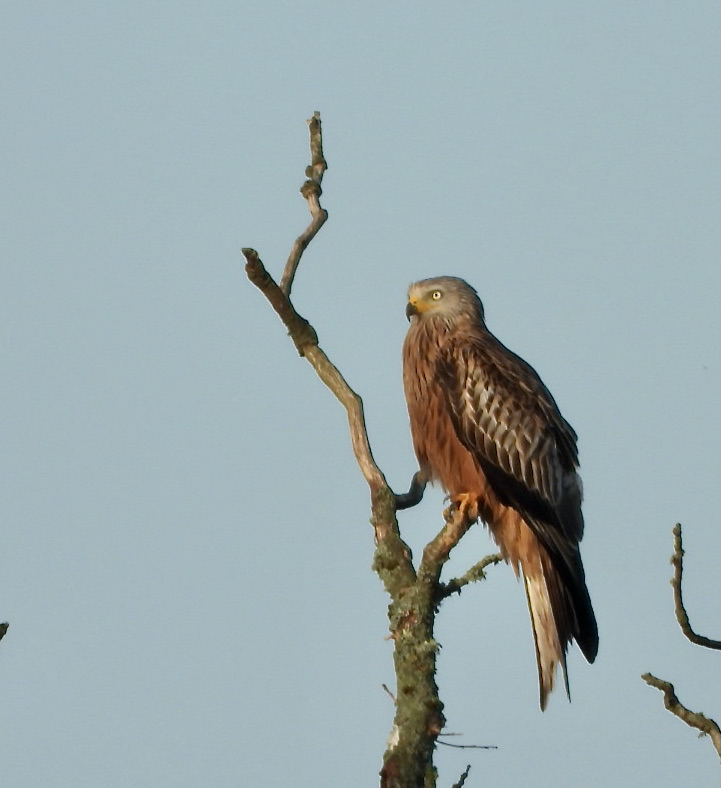 Just before they roost for the night, they often settle onto the roost site and then all fly together in the air again for a short time before they go back down to roost. By the time the Faccombe birds did this, just gone 4:00 in the afternoon, the weather was closing in – some mist and sleet – and although I could see them flying up getting another accurate count was impossible.
I was pleased to get back into the warmth of my car and to return home. It was cold standing there for so long, not moving very much! But a worthwhile exercise. I reported my count to the survey organiser and later that evening he sent me the results of all 15 surveys, plus a couple of 'out of county' reports (observers on the edge of Hampshire).
We will not have surveyed all roosting sites in Hampshire. The organisers asked that if any of us were aware of other regular sites we should let them know so that next time we do a survey these other sites can be included. I know some of you are aware that towards the end of last Winter a few Red Kite roosted in the fields close to Box Farm. I will keep an eye on that area to see if any return this year.
The history of Red Kites in Hampshire is fascinating. Until recent times, the last time they nested in the county was in 1864. And that was at a site close to us in the Test Valley. Human persecution of these beautiful birds (and harmless – they primarily eat insects and carrion) caused them to disappear from the UK apart from a few remaining in central Wales.
In 1995 and 1996 they nested in Hampshire again – near to Overton.
There was then a bit of a gap and the next nesting record is in 2003. These nesting birds were all from the Chiltern population in Buckinghamshire – they all have wing tags of different colours so can be easily identified in the air.
In 2003 through to 2005 the Hawk Conservancy Trust released some captive bred Red Kite near to Weyhill to bolster the Hampshire population.
In Hampshire (particularly the north of the county) we have a good population of these birds. In the summer of 2019, it was thought there were 300 to 400 breeding pairs in the county, with perhaps an additional 500 non-breeding birds present.
In the period 1989 to 1994 a reintroduction program in the Chilterns released juvenile birds from Spain near to the village of Stokenchurch in Buckinghamshire. I lived near there at the time and used to regularly go over to see them. In those days it would take quite a lot of searching to find a single bird. If you go there now and don't see one you must have your eyes closed!!
Driving along the M40 today, at Stokenchurch, just north of High Wycombe it is easy to see lots of Red Kite in the air.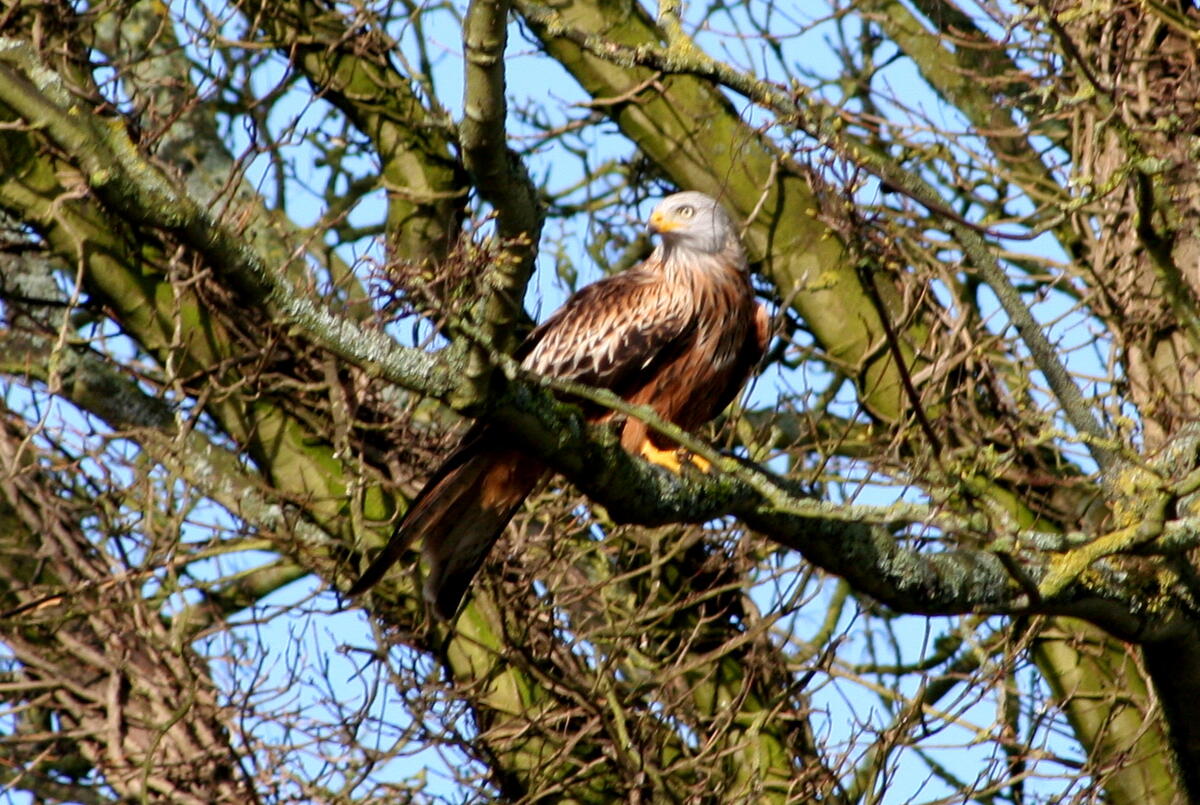 Today there are over 10,000 Red Kite in Britain – a real success story for the re-introduction program. In the UK there are over 2,000 breeding pairs now. Back in the 1950s the total UK population was down to probably 15 breeding pairs – all in central Wales - with a total of no more than 50 birds.
The young birds don't breed until they are two or three. The youngsters wander quite long distances, particularly in the spring. However, their first breeding attempt will often be close to the site where they were born – subject to them being able to find a suitable site and sufficient food in the area.
Red Kites are primarily European birds – a few breed in Morocco. They don't like extreme hot temperatures. Apart from the UK, in Europe they can be found in France, Portugal, Spain and across central Europe to the Baltic States, Ukraine and Sweden. They also appear to be keen to avoid extreme cold in that they don't wander beyond the southern end of Sweden!
But above all they are such a stunning bird to see. What beautiful colours and grace in the air as they twist and turn. We are very fortunate to have such a healthy population of these birds. Long may it continue.
Natural History Book of the Month.
Red Sixty-Seven a book curated by Kit Jewitt. It is a collection of words and art inspired by Britain's most vulnerable birds. A beautiful book and one to treasure.
However, the book makes sober reading – 67 bird species that are all red-listed species. For each one we are in serious danger of losing it from the UK and for some, from the world.
Each species has two pages – one a piece of art featuring the bird the other some words that have been described as a love letter to each species.
I particularly treasured pages 128 and 129 – the Tree Pipit. They breed in the valley here – we must do all we can to keep them returning every summer.
At the end of the book – in Memoriam, three bird species that were red-listed in 2009 and now lost to the UK. Incredibly sad. But let's not forget the great work that went into recovering the Red Kite population – they were once red-listed, but not anymore.