Wildlife Jottings Jun 2021
Wildlife jottings from Vernham Dean
Spring is here, albeit a somewhat cold one. The wind for most of April came from the north and east and was not helpful for migrating birds. As a consequence, the spread of migrating birds across the country slowed down for a bit, whilst they waited for more favourable winds. From a bird watching perspective it is an exciting time of the year. You are never sure whether you will discover something really rare, or it may be just another quiet day.
Come with my on my travels as this most recent spring unfolded……
I normally leave the house at first light and either do a circuit of various routes around the village or go to Inkpen Hill. Inkpen Hill is, for reasons I am not sure I understand, particularly attractive to migrating birds. Much more so than Fosbury Hill fort area.
At Inkpen Hill, sheep graze on the slope – albeit a northern (i.e., cold) slope and generally the grass levels are quite short. There are a few bushes on the side of the hill and a more concentrated group at the foot of the northern slope.
I park in the main car park and walk down the road to the bottom of the slope. I then take the footpath that crosses the northern slope, heading for the top. I try and walk the hill at least twice a week from end of March through to end of May.
I was unable to get there in March but saw reported that three Ring Ouzels had appeared at the bottom of the northern slope and stayed it looked like for just a day – I had missed them!! A Ring Ouzel is a bit like a Blackbird with a white crescent across its chest. It is secretive and breeds in upland Britain. It is just a Summer visitor. None breed anywhere near us here so my only chance to ensure I see one is to catch up with them as the migrate through in the Spring and Autumn.
I dutifully did my two weekly walks across Inkpen Hill and found nothing of note for a few days. And then on 10 April I came across a Wheatear on the main track and a flock of migrating Golden Plover flew over (they over-winter feeding on fields, but none very close to Vernham).
Then on another visit on the 14 April I heard, and then saw a Willow Warbler singing (my first of the year). They do breed around the village, but in decreasing numbers. Global warming is pushing them further north – they prefer cooler conditions.
These are all good sightings but, in the visits, in-between I am seeing relatively few birds and little evidence of any migratory birds.
And then on 28 April I arrived at the bushes at the top of the slope – slightly out of breath, it's a steep climb! – and heard the magic 'chuck' call of a Ring Ouzel and then a few seconds later a single bird flew away from me over the top of the hill. I walked back over the top of the hill and there in the top of a bush a male and female Ring Ouzel. Bingo! I reached for my camera, only to find It was not there - I had left it in the car!!!! But I had seen my first Ring Ouzel of the year, I was very happy!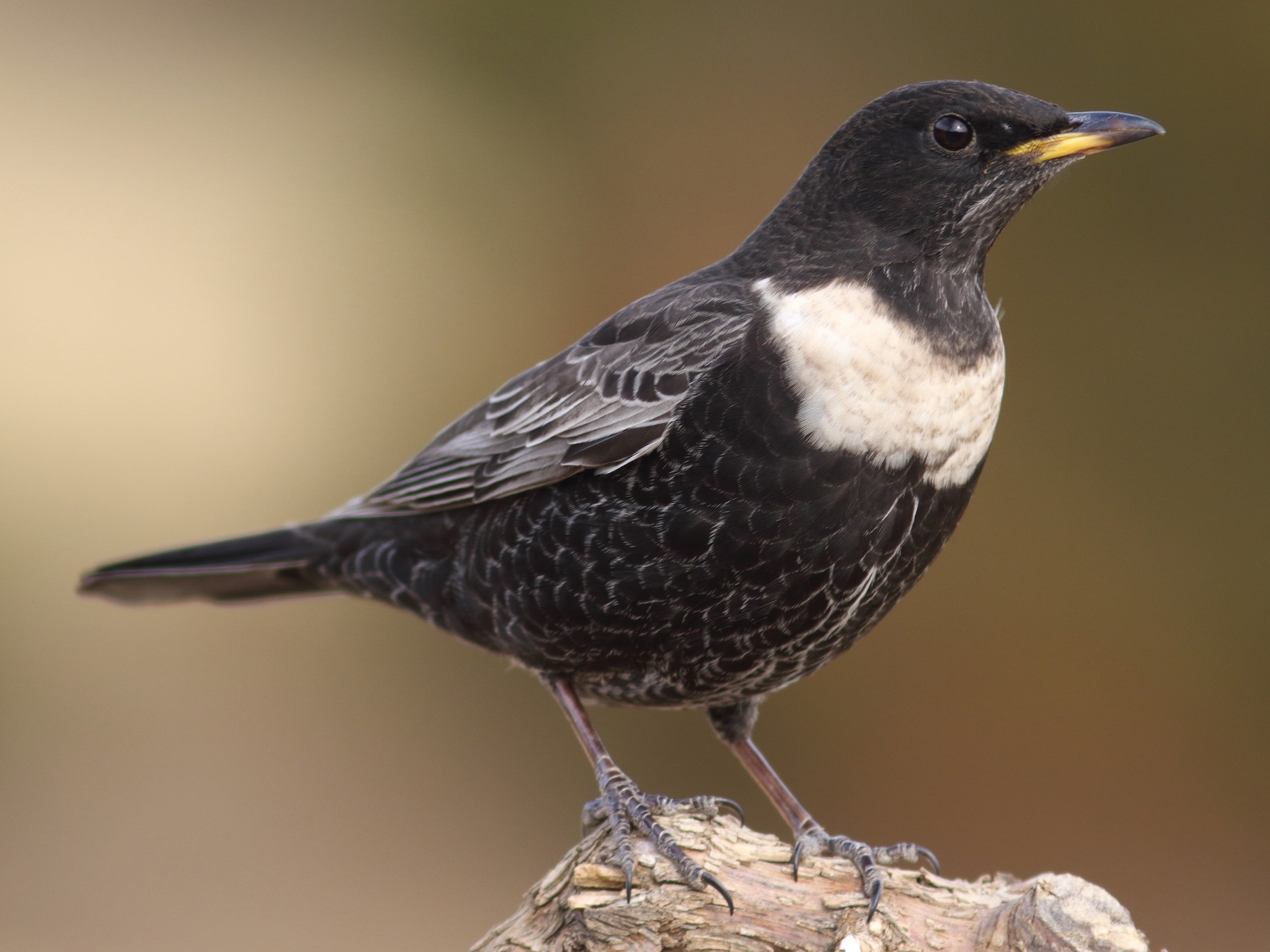 On my walks around the village, I try to do a different route each day. I have approximately 10 different routes I use so I cover a wide area, as far away as Faccombe, the other side of the farm at Hippenscombe, Buttermere, Fosbury Hill Fort, Upton and Inkpen etc.
Again, some days are better than others. One really good day recently was the 9 April. I had walked to the top of Fosbury and was there by about 6:30 am. I spotted a small flock of Redwing and Fieldfare in the trees near the top – they are wintering thrushes and will be passing through going back to their summer breeding quarters.
I could hear Blackcap and Chiffchaff calling from Oakhill Wood – common summer migrants but nevertheless a great sound first thing in the morning.
Over the other side of the hill and on the way back to Hippenscombe farm I could hear a Tree Pipit calling. This is an uncommon Summer visitor – there are at least 4 sites around the village where they breed each Summer – and this is one of them.
As I got onto the Hippenscombe road that runs through the farm I checked the fences and bushes carefully. These are good areas for migrant birds. The horse paddocks attract insects and flies – a great place for a migrant to stock up before they make their next move.
Just as I left the farm, I could see a movement on my right – a stunning male Pied Flycatcher. I have never seen one in the Vernham area before. They breed in Oak woodlands in the north and west of the UK. Despite being a striking black and white bird, it is not easy to see in dense woods. But here was one, sitting on the edge of a bush, within a few feet of me. Wonderful.
I stopped a while to enjoy watching this lovely bird – it would soon be on its way to its breeding grounds. A little further up the road I detected some movement around a tree – a bit like a Robin, but it is always checking everything out, you never know……! In this case I had found a male Redstart. They breed in the New Forest and again can be found in Oak woods in the north and west of the UK. Presumably this one was on its way north or west. It is a bird I see around the village at migration time, occasionally. It is quite secretive so even if they are there, they are easy to miss.
Whilst I thoroughly enjoy each of my walks – even on a quiet bird day – the odd special day puts a spring into my step.
With the easing of lockdown, I was able at the beginning of May to make an early morning visit to Theale Lake – near Reading. I drove there, of course, a bit too far to walk. This is a special place to find Nightingales. I know of nowhere near the village where they breed – if anybody does, please do tell me. I arrived at first light and went to an area of very thick dense bushes. And sure, enough within a few minutes I could hear a Nightingale singing. In fact, I counted 5 in the area.
Once the male has found a female for the Summer they stop singing. So, the best time to hear them ts from the end of April / beginning of May. And I even managed to get a brief of glimpse of one this year. Occasionally there will be a showy one and it will sit in full view singing away – that does not happen very often, but when it does it is something to be treasured.
The area they breed in is potentially an area for future housing development. Now I know we need more houses but please not at the expense of the wonderful Nightingale. They need dense bushes to breed in. This is getting less common habitat in the UK for a variety of reasons including the development of new houses, the increase in the number of deer etc. We really do not want to lose the Nightingale as a breeding bird in the UK.
I could write endlessly about the joys of bird watching in the spring (well at any time actually!). But that's probably sufficient for this article. More next time.
Natural History Book of the Month.
I am enjoying browsing through 'Hummingbirds – A Life-Size Guide to every species'. I have seen many different types in my travels over the years, but to sit down with this small book is a brilliant reminder of the birds I have seen and the ones I will see again once we are over the Covid19 restrictions. I am very much looking forward to it.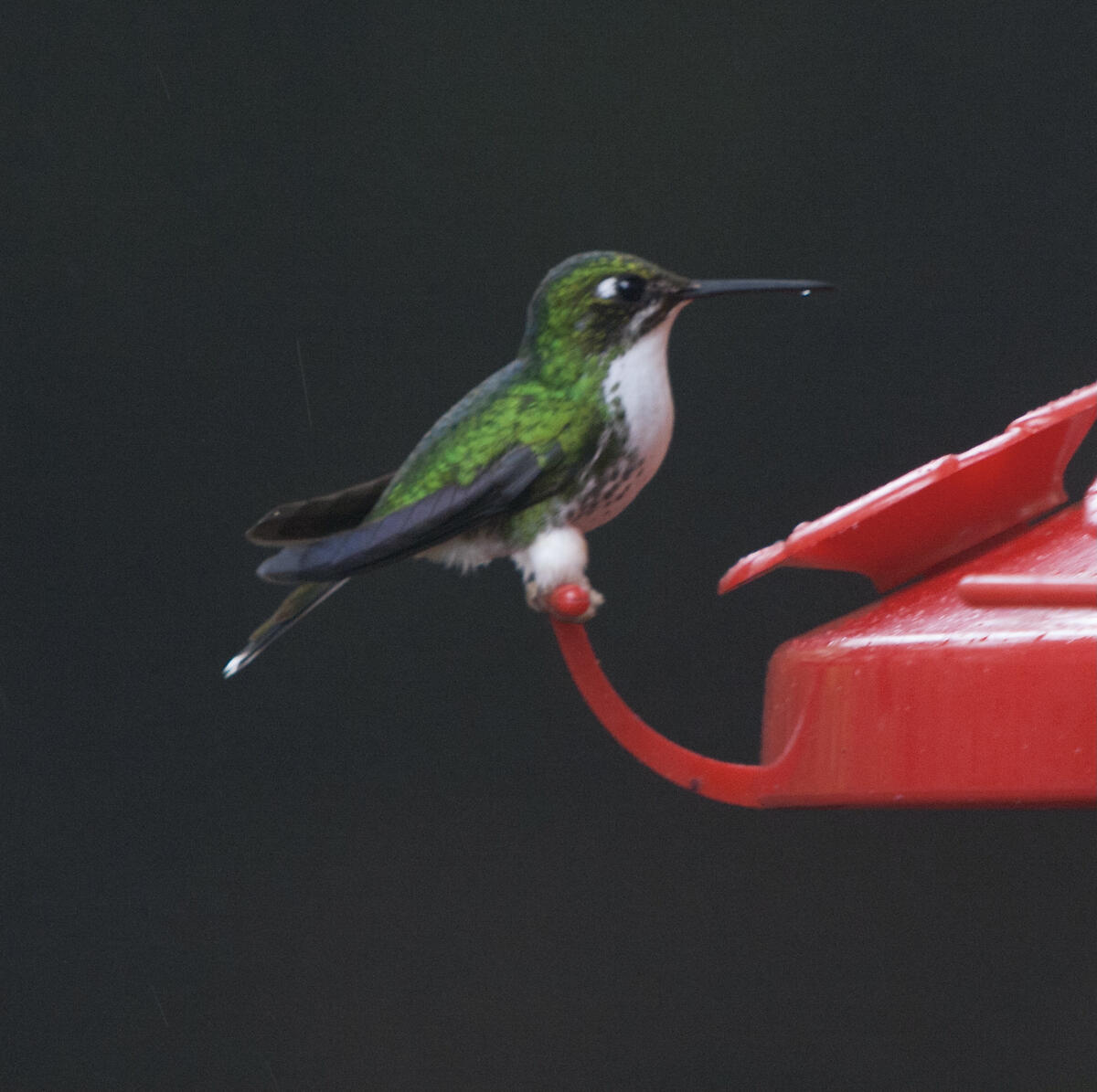 I know not a bird from Vernham – but that's a Racket Tailed Puffleg. One of my favourite hummers. What a great name! It lives in the Andes and needs those feathery lags to stay warm.
In the meantime, I watch the Naturetrek virtual tours – yes live birdwatching from your sofa. See https://www.naturetrek.co.uk/tour-focus/virtual-tours The South American ones usually feature hummers!
In the last few weeks I have 'been' to Argentina, Ecuador, Spain and Panama, bird watching! Just for an hour each time and best of all there is no charge.