Wildlife Jottings Nov 2020
Wildlife jottings from Vernham Dean
I received an email the other day from a villager worried about the recent decline in the number of birds at her garden bird feeders. Her concern was that her cleaning routine for her garden feeders was insufficient, and she was somehow killing the birds coming into her garden.
This reduction in garden feeding birds is something that tends to happen at this time of year and is nothing to worry about. It was clear our concerned villager knew about the importance of cleaning feeders and did so regularly. So, nothing to worry about on that front.
At this time of year there is an abundance of natural food for the birds in the countryside. In addition, they are no longer having to feed their hungry offspring. So, their only real concern is their own safety and to ensure they feed up for winter.
Feeding youngsters is now just a distant memory; the days when the Great Tit parents had to push food down the throats of their youngsters every 90 seconds during the day-light hours! That must be exhausting for the parents.
Many of our common garden birds can now be seen in loose flocks moving through the countryside. If you stand and watch them, you can see them moving along from one bush to another. Try counting how many there are in the flock – almost impossible at this time of year with them moving in and out of sight behind the leaves on the trees.
Being in a flock is also a good device for their own protection. There are multiple pairs of eyes looking out for predators. If a Sparrowhawk swoops down the hedgerow you will hear the alarm calls warning all in the flock to keep their heads down until the danger has passed!
A good place to see these flocks, at the moment, is the rough area next to the churchyard in Vernham. A week or two ago the Elderberry bush in the middle of that area, had lots of berries growing on it, and then a flock of birds arrived. If you look at it now it has been stripped bare. A variety of different species were feeding on the bush. At one point there were10 Blackcaps – feeding up before they started their long migration south.
NB Look out for Blackcaps on your feeders in the Winter. A small number of Blackcaps winter in the UK and they come to garden feeders. We have seen them most years in the garden during the Winter months.
The dense Yew bushes near the church attract Tits and a few Warblers. A Chiffchaff has been easy to see there over the first few days of October. Goldcrests feed in the taller Yew trees.
The Hawthorns are now attracting lot of Thrushes – a day or two ago there were several Blackbirds, a few Song Thrush and five Redwing (these winter in the UK) busily feeding on the berries.
All these birds are the birds you would otherwise see in your gardens. As their natural food supplies dwindle and it becomes more difficult for them to find food in the wild the food you put out in your gardens becomes important to their survival over Winter.
So, don't worry if numbers of birds in your garden are down at the moment, keep feeding the birds (and remember to put water out for them) and they will be back. You will be doing your bit to help keep them going over Winter.
During September and October birds are on the move. Birds arrive in the area that we would not normally expect to see here and then soon disappear. On one of my walks around the village I was walking along the footpath that takes you towards Upton Manor. There are large fields either side of the footpath and a fence with a few bushes in it. It is also quite high land – good views of the surrounding countryside and a walk I always enjoy.
On this morning, as I walked up the slope, with the sun in my eyes, I could see movement on both the fence line and also in the fields to my right. The bird in the field was easier to identify – it's shape and movement gave it away as a Wheatear. It will have bred in the north of the UK (maybe even further north) and it is now travelling south for the winter. We see Wheatear in this area as they move north in March / April and then again when they return to pass through on their way south.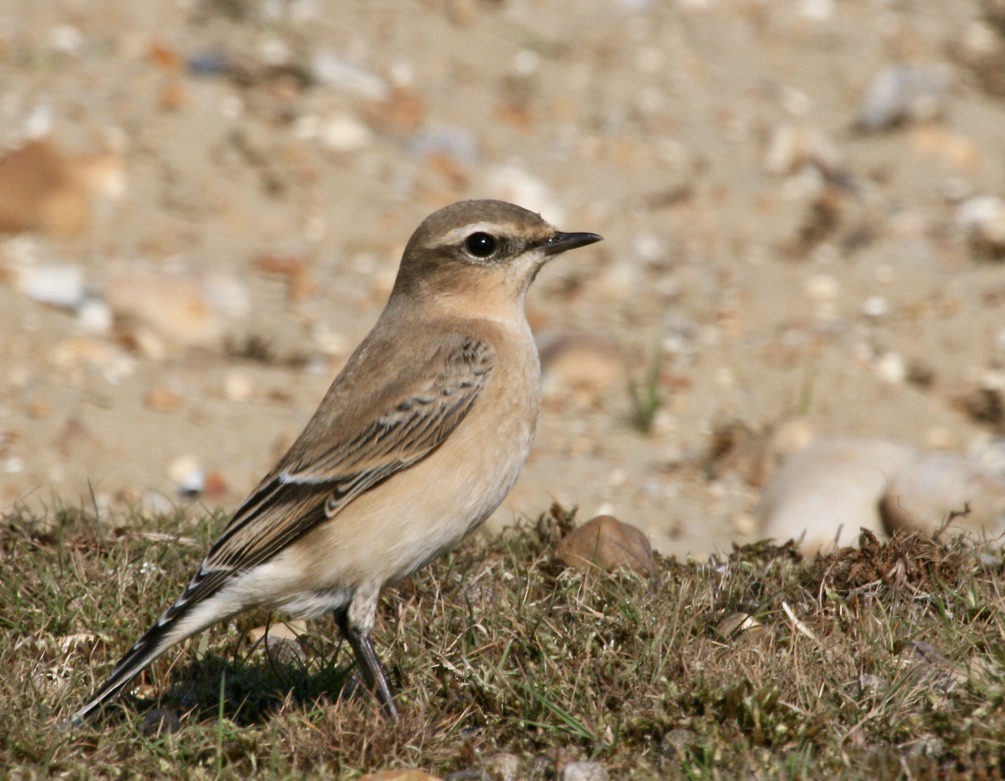 Wheatear
The two birds on the fence were more difficult to identify. I needed to see more than shape and movement to work out exactly what I was looking at. In the end I had to get past them, without disturbing them, and look at them in good light so I could see their markings. That took a while to accomplish, but eventually they flew off the fence and into the field allowing me to change my position without disturbing them.
In good light it was obvious I was looking at a pair of Whinchats. Again, a summer migrant to the UK, returning through, on their way south. Whilst they can be seen around here in most years as they migrate through, they are not as easy to see as Wheatears.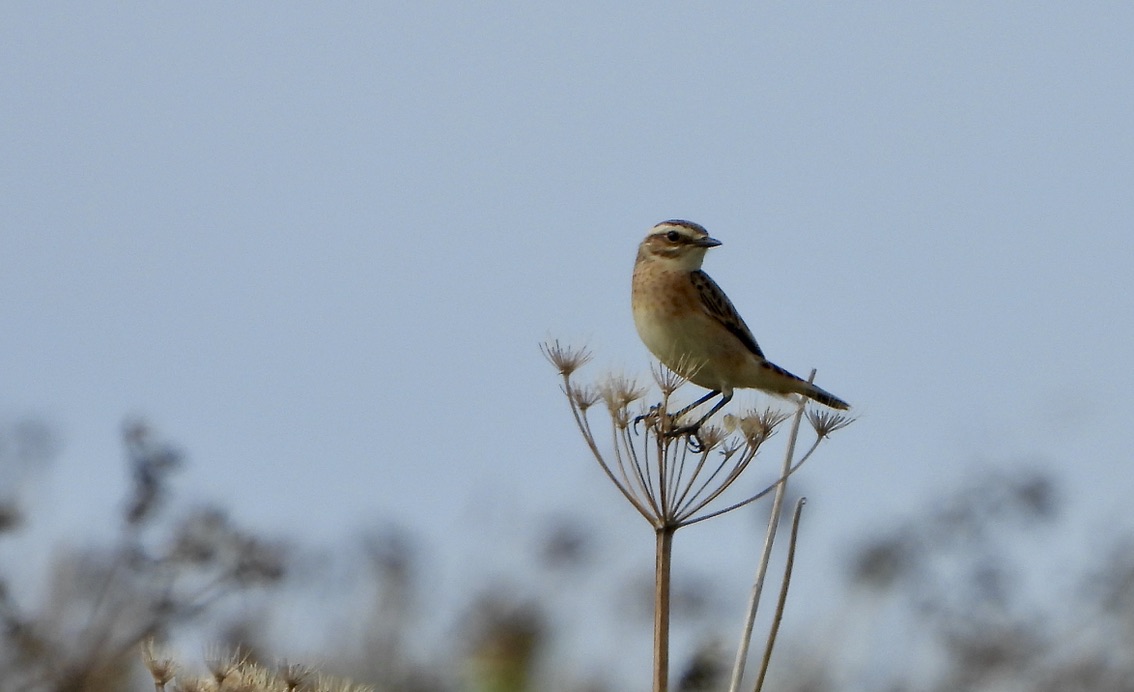 Whinchat in typical 'pose' on top of plant
When Whinchat are migrating north in the spring they tend not to stop for very long – they just want to get back to their breeding sites. On their way south in the Autumn they will stop for a day or two on the way through.
Wheatears, however, stop and feed at sites on their migratory routes for a few days at a time on their way up and also on their way back down.
Whinchats used to breed in Hampshire. In 1905 they were described as 'found in all parts of the county, but nowhere plentiful'. By the mid 1960s they were restricted to breeding in the south of the county – mostly just the New Forest. Today there are as far as is known no breeding Whinchat in Hampshire at all – the last recorded breeding attempt was 1998.The reasons for this are always difficult to know but it is thought that the change in the way we farm over the last century has been the primary cause of their decline.
Any day that I see either a Whinchat or a Wheatear is a good day for me. To see both on the same day at an inland site is a special day. At coastal sites like Farlington Marshes, at the entrance to Portsea Island, it is easy to find several Whinchat and Wheatears at migration time. A trip I do occasionally and always come back smiling!
Natural History Book of the Month.
Take a look out at the fields around the village or indeed over the village at almost any time at the moment and you will see a large flock of Carrion Crows, Rooks and Jackdaws. I know they are not everybody's favourite but they are an interesting family of birds. This large flock (100 plus birds) feed together during the day and roost together at night-time.
Mark Croker's book Crow Country explores the behaviour of Crows in Norfolk. Its more than a book about birds. His book is a 'prose poem' in a long tradition of English pastoral writing. A great book for a winter afternoon in front of the fire and a book I am happy to return to from time to time.