Wildlife Jottings Feb 2020
Published in Focus Magazine Feb 2020
On a dark evening a little before Christmas a small group of local bird watchers met at a local hostelry. Whilst we enjoyed a pint of the landlord's best the meeting was all about the Willow Tit survey we are planning for 2020.
The Willow Tit is a small woodland bird that is rapidly disappearing from the south of the UK. They like damp woodland and nest in rotting trees. We are fortunate here in Hampshire to have a small population of Willow Tit – a few in the Dummer area near Basingstoke and some in the Faccombe area.
They are not easy birds to see. The males generally start singing in mid-February and will stop once they have paired up and started nesting. Their song is an important identifying aid as another bird – the Marsh Tit is almost identical. They can be told apart by sight, but that takes much practice and in the middle of dark woodland it can be difficult to see the main distinguishing features. Hence if we hear them sing (the song and calls of the two birds are very different) we can be sure we have found a Willow Tit.
The Willow Tit survey plan is to do a search in what we think is suitable local woodlands to see how many other sites support breeding Willow Tits. A number of us have done this survey for the last few years and found a few extra local sites where Willow Tit breed.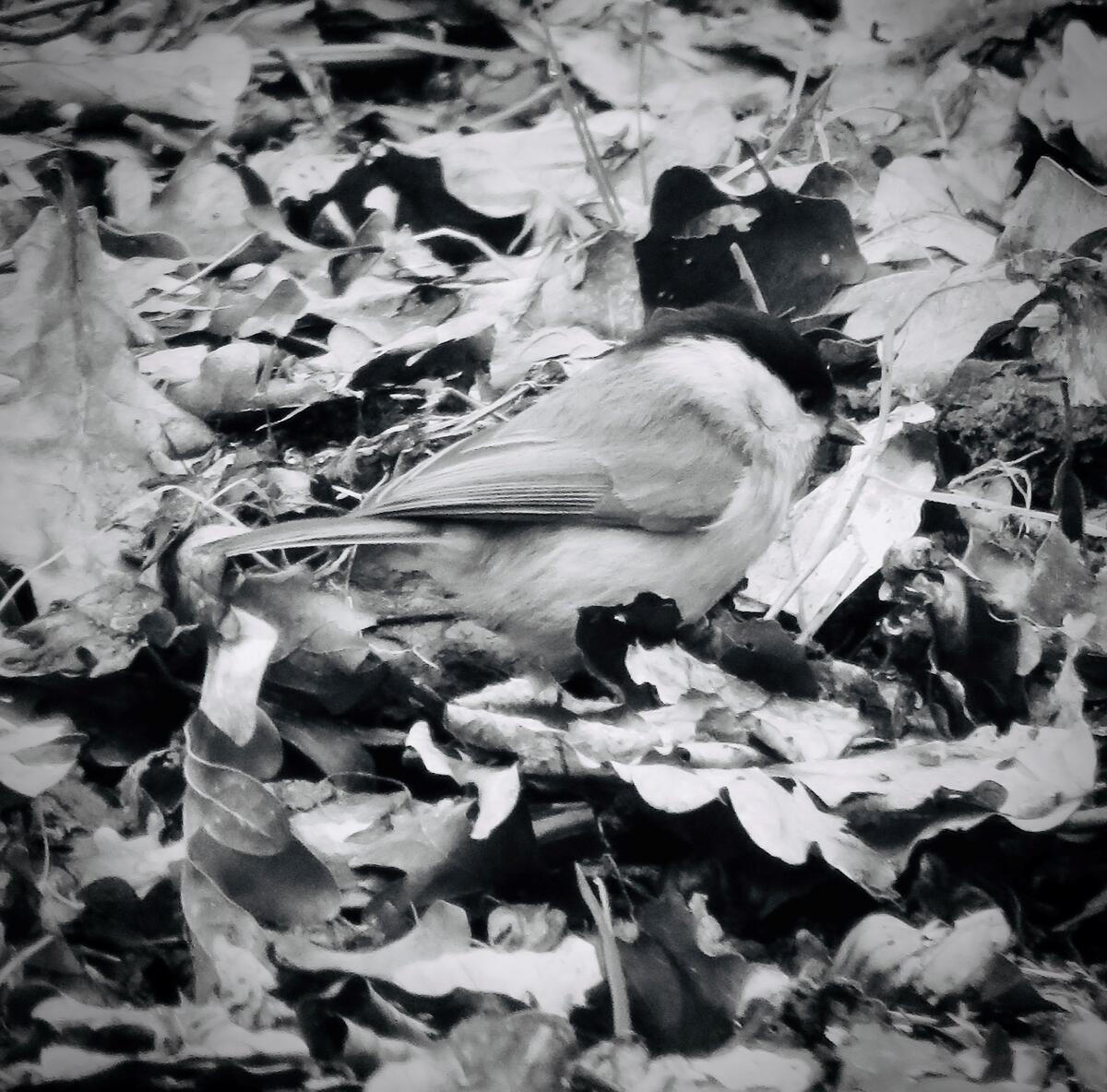 I shall report back in the future on the results of this survey.
Since starting to write these articles a number of villagers have seen me and reported some interesting sightings. Please keep that up – it's great to see so many people engaged with our environment and watching out for our local natural history.
I had a photo sent to me of 12 Collared Dove feeding at bird feeders in a garden in The Dell. They do tend to form feeding flocks in the winter months. Nevertheless, 12 together in one garden is a good number.
in the early 1950s Collared Doves did not occur in the UK. They moved east from Asia and quickly spread across Europe into the UK. They are now a common bird across the country – the only places where you won't see them is in the mountains of Scotland and Wales and in remote treeless bogs. The first recorded breeding pair occurred in the UK in 1955.
I continue to do regular walks around the village with binoculars to hand to see what I can spot. One of my favourite spots to linger is Vernham Dean churchyard.
The Yew Tree in front of the church door invariably has at least one Goldcrest moving constantly through the leaves looking for small insects. They can be seen throughout the year in the churchyard. And for those with good hearing you can, I am told, hear them calling really clearly. It is a high-pitched call and is as a result beyond the hearing range of many men as they grow older and our hearing capabilities reduce.
On one of the paths leading up to the church I came across a flock of birds moving through the hedgerow. As explained in previous articles I will always stop to see what I can find in these flock. This one had the usual Blue and Great Tits in it, plus a Marsh Tit but in addition two Treecreepers. Always nice to see a Treecreeper. Since seeing them there I have been told of a Treecreeper visiting a garden on Bulpits Hill.
Another great sight reported to me is that of the Red Kite roosting in the trees near to Box Farm. As the winter changes into Spring they will start moving away from the area to breed. But in early January if you stood anywhere near Box Farm at dusk or dawn you would have been treated to the sight of 20 or so Red Kite in the air.
On an overcast Saturday afternoon in late January a small group of us – young and old - spent a pleasant hour and a half in the church yard to count all the birds we could see and hear. It was a very quiet start – even the usual Goldcrest had decided to abandon its normal tree.
However, as time went past the birds started to sing and we saw 21 different species; the last 10 minutes or so being the most productive. A little before dusk we heard a Tawny Owl calling. The Robins, until that time had been silent, and then in quick succession several started to sing.
The most vocal of the birds was a Nuthatch calling from the large trees behind the church and two Song Thrush whose fluty, repeated melody could be heard for most of the afternoon.
We plan to undertake some more surveys of the wildlife of the churchyard. It would be good to understand the numbers and types of moth, butterfly, other insects, plants and birds etc. that use our churchyard as their home or just pass through. If you would like to get involved, please get in touch with me. Please feel free to email me at johnhalelho@btinternet.com.
My natural history 'Book of the Month'
In a time when we are worrying about climate change and the extinction of some species of wildlife, Mark Avery's book 'A Message from Martha' is a reminder of the damage mankind can inflict. Martha was the last ever Passenger Pigeon, who died in Cincinnati Zoo in 1914. The last recorded bird in the wild was – incredibly - shot in 1900!!
Passenger Pigeons were once the most abundant bird in North America, numbering approximately 5 billion birds!